Presenting Oscars at the 91st Academy Awards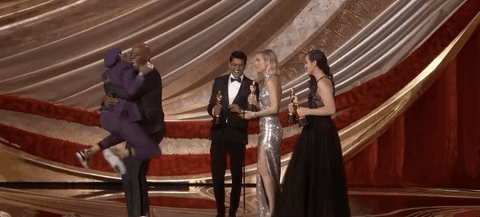 Growing up, the Oscars was an aspirational event and time of year when I'd dream about my ambitions of directing and perhaps of being a nominee in the future.
Given its late Sunday schedule, I was almost always doing my homework with the awards on, a special exception that I made only for the Oscars. Obviously, I would have preferred to just watch the awards, but I always had tons of homework. At the time, I remember thinking 'Do you work now so someday you might actually get to be there.' Each year, when I'd watch the awards at home and do my homework, I would feel one year closer to realizing those ambitions.
But this year, I was there. Not only did I have the opportunity to be at this year's Oscars, but to actually be part of the show, present awards to some my favorite filmmakers, and share in special moments of their careers and lives.
Being a young filmmaker meeting and sharing the stage with filmmakers I greatly admire was unbelievably inspiring.
Filmmaking is privilege and a joy, but it's also tough work. However, having this experience (and sharing it with my friends and family) right before going into production on my short film Pasos de Valor/Steps of Valor was so motivating.
This experience was made possible by the Academy Gold Program and Annapurna Pictures as part of a talent development and inclusion initiative. I am so thankful to these entities for creating access through opportunities like these and, most of all, believing in me.